Support Endurance & Physical Performance

Supports Mood, Recovery, and Immune Function
FLO2 is organic aromatic essential oils that open your natural respiratory pathways.
Anytime! If you're stressed, tired, feel rundown, yoga, meditation, boxing, hiit, anxious, feel run down, pre-workout, post workout, before bed, a run, to study, in a sauna and in your shower steam!
Yes, while FLO2 is not a medicine and claims for cures can't be made. Camphor, menthol and Rosemary found in the FLO2 formula have been studied extensively and proven to have "antiviral" properties. Studies are found in the public domain on pubmed.gov.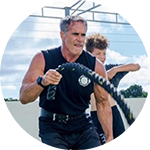 "FLO2 is like turbo-charge for your lungs. It creates better energy, focus, and endurance."